Doorbell Camera Guide.
Start here for a primer on what defines a doorbell camera, who video doorbells work best for, how to install most models yourself, and how the technology works to protect your home.
What Is a Doorbell Camera?
Who Is a Video Doorbell For?
How to Install a Video Doorbell
U.S. Metros with the Most Package Theft
How Does a Wi-Fi Doorbell Camera Work?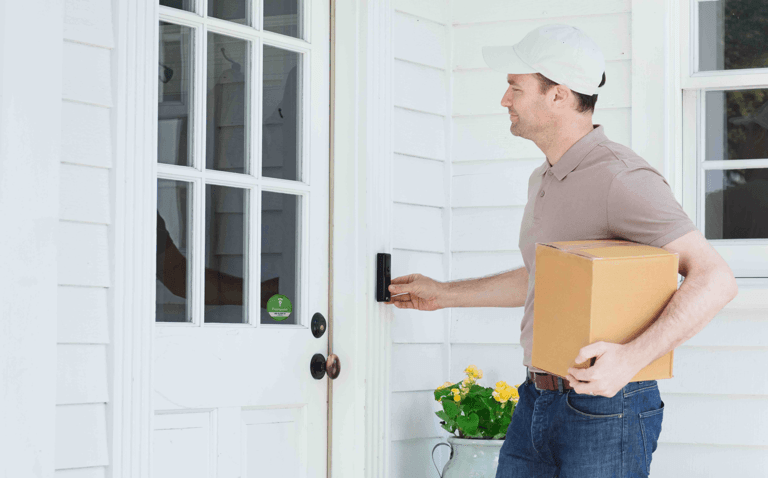 What Is a Doorbell Camera?
A doorbell camera is a traditional doorbell and a bona fide smart home security camera in one device.
Doorbells with cameras bring added convenience to the doorbell experience for both you and your visitors—unless your visitors are porch pirates.
Rings your in-home door chime
Pings your smartphone app at the same moment with a video "call" from your visitor
Lets you answer or ignore the call
Streams real-time footage of your visitor over the app
Alerts you when visitors knock instead—or just loiter
Saves motion-activated clips for you to review later
Enables two-way audio with an included microphone and speaker
Syncs with other smart devices for a more streamlined home life
With these abilities, the video doorbell helps you screen visitors, connects you with the visitors you care about in an immediate and personal way, and gives you the flexibility to do both anywhere you take your phone.
Who Is a Video Doorbell For?
Anyone who wants to screen visitors or answer the door virtually might enjoy having a video doorbell. But there may be circumstances in your life that can make a front door camera feel especially safe and comforting.
Working parents, whether singles or couples, can use the video doorbell to "answer the door" on behalf of their kids before getting home from work.
People who live alone, especially folks who feel particularly vulnerable to strange visitors, can use a doorbell camera to screen visitors without having to approach the door itself. (What good is a peephole when the person can hear your approach and see your shadow in the lens?)
People with limited mobility can use the mobile app to let visitors know they're home and heading to the door.
People who travel frequently can use a doorbell camera to give strangers the impression that the house is occupied, or on the other hand, to answer unexpected drop-bys from neighbors and friends.
People who live in areas with high theft rates can use two-way audio to warn shifty strangers poking around their delivered boxes.
People who shop online steadily, regardless of larceny rates in their area, may want to invest in a front doorbell camera because they have more to lose than people whose packages come more sparsely. Also, since many deliveries require signatures or actual contact with the recipient, the two-way audio feature may prevent shoppers from having to chase down deliveries they missed during work.
Homeowners and renters alike may find a video doorbell camera useful for any of the reasons listed above. For both wired and wireless models, the installation is usually minimal and requires a few simple tools.
People new to home security may find doorbell cameras an easy, fun, and useful way to dip their toes in the water.
People working toward the ultimate connected smart home are perfect candidates for a video doorbell, since it's becoming a staple in today's smart home.
How to Install a Video Doorbell.
If you choose a smart video doorbell that requires professional installation, you can coast through the process!
If you're leaning toward DIY instead, be aware each smart doorbell installs a little differently, but most models follow three basic steps: (1) unscrew the old doorbell, (2) tidy a few wires or install the battery, and (3) screw in the smart doorbell.
For a closer look, scan the sample instructions below. These instructions use the Frontpoint Doorbell Camera as the reference device.
Sample DIY Installation Instructions
Go to your circuit breaker and TURN OFF THE POWER to your doorbell for a safer install.
Unscrew your existing doorbell and disconnect the wires.
Place the smart doorbell's mounting bracket where the old plate was and pull the wires through the center hole.
Screw the bracket in place at the top and bottom of the plate.
Connect the wires to the contact points on the bracket.
Snap the doorbell camera onto the bracket and secure it with one last screw.
You're done installing! Now turn your circuit breaker back on, let the camera charge until full, and sync the doorbell to your app.
U.S. Metros with the Most Package Theft.
Porch pirates strike almost everywhere, and these cities are particularly vulnerable. If you live in one of these areas, a doorbell security camera could be a smart investment. Source: SafeWise
| Annual Package Theft Rank | U.S. Metro Area |
| --- | --- |
| 1 | San Francisco–Oakland, CA |
| 2 | Seattle–Tacoma, WA |
| 3 | Baltimore, MD |
| 4 | San Diego, CA |
| 5 | Washington, DC |
| 6 | Los Angeles, CA |
| 7 | Portland, OR |
| 8 | Salt Lake City, UT |
| 9 | Austin, TX |
| 10 | New York, NY |
How Does a Wi-Fi Doorbell Camera Work?
With a traditional doorbell, pushing the button sends an electrical signal through your home and triggers the bell in your hallway.
With a wired doorbell video camera, pushing the button also sends an electrical signal through your home and triggers the bell in your hallway. But other actions happen in quick succession using additional technology like Z-Wave and Wi-Fi networks:
The camera's infrared motion detection sees someone approaching, activates recording, and sends a motion alert to your smartphone.
The unit "calls" you if the visitor presses the doorbell, then it live video streams the footage to your mobile app if you answer.
The speaker broadcasts your voice.
The microphone lets your visitor respond.
Wireless doorbell cameras use electricity too, but in battery form. This usually means they come with their own separate digital chime, which receives a signal from the button over Z-Wave or Wi-Fi networks.
In summary: The traditional doorbell uses electricity and simple mechanics to ring a bell when someone pushes the button. The smart doorbell camera uses a combination of electricity and wireless technology to ring the bell, call your phone, and stream video when a visitor pushes the button, knocks instead—or just loiters.
Frontpoint: Guardian and Greeter of Your Front Porch.
Safeguards starting with the video camera at the front door
Continues protection through the house with indoor cameras and sensors
Syncs with smart home devices