Your Guide to Wireless Outdoor Camera Systems.
The security of surveillance meets the convenience of home automation with wireless outdoor security camera systems.
Why Get a Wireless Outdoor Camera?
Wire-Free vs. Wired vs. Wireless Outdoor Security Cameras
What to Look for in a Wireless Outdoor Camera
Top 10 Ways to Deter Burglars: An Outdoor Security Camera Ranks #1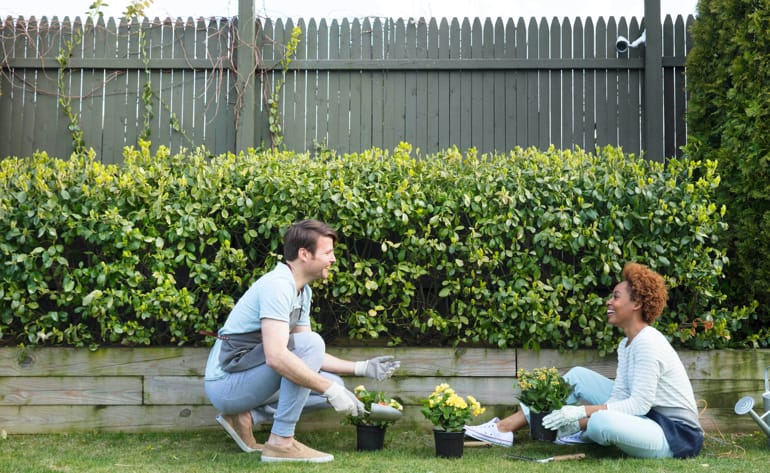 Experience the Wireless Difference.
Join the wireless revolution. Device wires are quickly becoming obsolete in many tech-savvy spheres, and the home security sector is no different.
A wireless outdoor security camera takes advantage of your preexisting Wi-Fi or Z-Wave connection to transmit video footage straight to your desktop—or smartphone.
Plus, without wires getting in the way, you've got plenty of options to sneak your camera somewhere hidden from view. Outdoor wireless security cameras offer comprehensive household protection combining 24/7 surveillance with convenient remote alerts and smart home integration.
Why Get a Wireless Outdoor Camera?
When something gets stolen off your porch (the nerve!) it doesn't have to be a lost cause. That's the beauty of having a second pair of eyes. An outdoor wireless security camera offers sleek surveillance protection and motion-activated video clips, so you can catch a thief in their tracks and provide the footage to police to help them solve the case.
Whether you want to keep track of your kid's curfew, or keep an eye on the garage while you're on vacation, a wireless outdoor security camera system is a smart solution to keep your home and family safe.
A few benefits of a wireless outdoor camera:
24/7 home surveillance
Easy, DIY installation
Motion-activated video clips
Remote accessibility
Wire-Free vs. Wired vs. Wireless Outdoor Security Cameras.
The outdoor camera industry continues to adapt to the evolving needs of modern customers, resulting in a robust range of outdoor camera options. When deciding on an outdoor wireless camera for your home, consider the technology behind each choice. Check out our breakdown below to discover the pros and cons of a wired, wireless, or wire-free outdoor security camera system.
Wired
Here we are—where modern surveillance all began. The most traditional tech of today's outdoor cameras, wired systems physically connect the camera to the router for a secure and dependable connection.
Also known as CCTV—Closed-Circuit Television—cameras, wired systems use hardwired, analog technology, which minimizes the possibility of interference from surrounding frequencies—including your kiddo's tablet. Wired systems are perfect for large homes, since they can support a heavy load of video data without maxing out on bandwidth.
Pros
Secure network = less prone to hacking
Reliable, hardwired connection
Supports large properties
Cons
Requires pricey professional installation
Must drill permanent holes to install
Intruders could cut wires
Wireless
A wireless outdoor camera system is a modern-day solution for outdoor video surveillance. Wireless systems transmit recorded material via Z-wave or Wi-Fi, eliminating the need for unsightly wires and offering seamless integration with smart home devices and the Internet of Things.
Wireless cameras tend to feature a sleek, modern silhouette that makes them easy to hide from onlookers. Learn more about the best places to mount—and hide—your wireless outdoor security cameras on our Outdoor Camera Guide. After all, sometimes, sneaky equals safety.
Pros
Syncs with Z-Wave or Wi-Fi to support home automation
Remote access via mobile app
Easy, DIY installation
Cons
Higher risk for system hack
Wi-Fi bandwidth overlaps with existing devices
Still must have a power source
Wire-Free
Yes—there really is a difference between wireless and wire-free! Wire-free security systems feature battery-operated cameras to offer a completely cable-free wireless outdoor camera system.
Wireless cameras can use the term wireless, because the security footage transmits from the camera to the recorder without wires. However, many wireless cameras are not 100% wire-free, because they still need a cord to connect to a power outlet. Wire-free outdoor cameras, by contrast, feature battery operation and cloud storage for a truly cordless experience.
Pros
100% wire-free outdoor camera
Battery-operated for consistent coverage
Cloud network storage
Cons
Batteries must be recharged
Only as consistent as Wi-Fi signal
Can be more expensive
What to Look for in a Wireless Outdoor Camera.
Not all wireless outdoor surveillance cameras are created equal. Before you buy, verify that the outdoor camera you choose comes equipped with these critical features.

Frontpoint Outdoor Camera
Weather-proof for temperatures 4° to 122°
Motion-activated recording capability
Image resolution up to 1280 x 800
View live video clips via the Frontpoint App
View Details
Night View
Burglars don't take a break in the evenings—neither should your security camera. Choose to install wireless outdoor cameras with night vision, so that you can zero in on a stranger even in zero light.
Image Resolution
See every newcomer clearly by choosing a camera with high-def image resolution up to 1280 x 800. Since faces appear small on video, every extra pixel makes a difference in identifying your porch guests.
Alerts
No need to wait till you get home from vacation to review your surveillance camera footage. Your wireless outdoor home security cameras should come standard with customizable smartphone alerts.
Power Maximums
Make sure your outdoor Wi-Fi camera doesn't require too much power. Avoid an electrical overload by choosing a camera that can handle your recording volume without overrunning the power supply.
Smart Home Integration
If you're going to invest in a security camera, you're going to want a smart one. Since a wireless outdoor camera connects to your Z-Wave or Wi-Fi network, it can sync with your smart home devices, too.
Wireless Encryption
Since wireless outdoor surveillance cameras don't have hardwired networks, quality wireless encryption is a must to keep your footage secure and avoid the stress—and exposure—of a system hack.
Top 10 Ways to Deter Burglars:
An Outdoor Security Camera Ranks #1.
It's official: Burglars and car thieves alike avoid home security cameras above all else. In fact, 89% of ex-cons would think twice about targeting a connected home, and 67% would avoid connected cars. Those are some big numbers. So when brainstorming ways to protect your home from a break in, consider installing a smartphone-controlled outdoor wireless security camera system to deter burglars and safeguard your loved ones.
| Top 10 Deterrents for Home Burglary | Top 10 Deterrents for Car Thieves |
| --- | --- |
| 1. CCTV Cameras | 1. CCTV Cameras |
| 2. Sound of a barking dog | 2. Car alarm |
| 3. Strong heavy doors | 3. Street lighting |
| 4. TV which is switched on | 4. Cars parked in the driveway |
| 5. Locked UPV windows | 5. Newer car |
| 6. Cars parked in the driveway | 6. Steering lock device |
| 7. Overlooked property | 7. Older car |
| 8. Surrounding fences | 8. Neighborhood Watch Areas |
| 9. Gates outside the property | 9. Cars parked in a dark alleyway |
| 10. Motion-activated security lights | 10. Immobilizer |
Source: Co-op Insurance
Go Wireless with Frontpoint.
Ready to give an outside surveillance camera a try? Frontpoint's wireless Outdoor Camera comes equipped with motion-activated video clips, remote access via the Frontpoint App, and image resolution up to 1280 x 800. Fill out this short form, and you'll get a free, personalized quote in just a few clicks.