Your Guide to Indoor Security Cameras.
Find a solution you can count on with this smart buyer's guide to indoor cameras.
Is an Indoor Camera Right for You?
Top Features to Look For in An Indoor Camera
Keep Your Indoor Cameras Hidden
Indoor vs. Outdoor Cameras
Secure Your Cameras the Smart Way
Do People Use Their Security System To Check on Their Pets?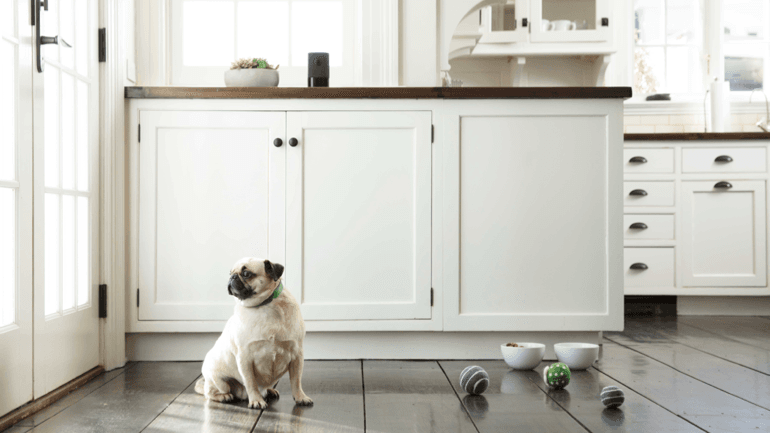 Your Indoor Camera Journey, Simplified.
The home security industry's growing up fast. In fact, experts estimate the indoor home security cameras market will reach $9.7 billion by 2023—so now's a good time to invest.
Yet, we get that when perusing indoor cameras online, the amount of options might seem overwhelming. That's why the safety experts at Frontpoint want to simplify your journey.
We've created this go-to Indoor Camera Guide to help you discover today's most essential indoor camera features, so you can walk into the store—or click "buy"—with confidence.
Is an Indoor Camera Right for You?
You might have some nice neighbors, but even the kindest on the block won't be able to keep constant, vigilant watch over your living room. We don't blame them. Instead, entrust technology to the job with an indoor home camera system.
Many of today's indoor cameras offer a robust selection of features, including motion-activated video for targeted clips and the ability to view live and recorded footage from your smartphone for remote accessibility.
Cheaper than hiring a full-time security guard, indoor surveillance cameras keep watch 24/7 wherever you put them—from your living room bookshelf to beside the baby's crib. After all, some things deserve an extra pair of eyes.
A few things you can do with an indoor camera:
Peek in on the puppy between meetings at work
Catch up with grandkids via two-way talk
Check on the baby—even in their pitch-black room—with infrared night vision
Top Features to Look For in An Indoor Camera.
Remote Monitoring
When you want to confirm that your dog walker or babysitter got in safely, an indoor camera with remote monitoring lets you view live video clips from your smartphone while you're in line at the store.
Network Encryption
A network security protocol such as a WPA2—Wi-Fi Protected Access—arms your indoor camera system with a unique encryption key that's more difficult to crack than a simple password.
Night Vision
Look for a low-light sensitive indoor camera with heat-sensing infrared night vision. LEDs project a light frequency that lets you see suspicious activity—or your sleeping pup—even with the lights off.
Motion-Activated Recording
There's no need to sift through hours of footage when just a few seconds will do. Opt for an interior security camera that only records video when someone walks by for the most efficient video solution.

Premium Indoor Camera.
High-resolution indoor camera with audio capability
Two-way talk
Syncs with smart home devices
180-degree field of view
Easy, DIY installation
View Details
Storage Capacity
Whether you want cloud-based storage or an external hard drive solution, consider the amount of data you'll want to keep to inform your storage needs before you purchase an indoor camera.
Smartphone Notifications
Let your camera do the checking in for you. Choose an indoor video camera with customizable smartphone alerts so you can decide which activities you want to hear about—and those you don't.
Two-Way Talk
Whether you want to say hello to the nanny and kids on your lunch break or check in with Grandma over the weekend, two-way talk means you can chat with anyone in your home with just one click.
HD Resolution
Sometimes all it takes is a few pixels to go from blurry to clarity. Look for an interior camera with HD resolution, so you can see each video clip clearly enough to use in a police investigation if needed.
Indoor vs. Outdoor Cameras.
When you want to secure your home on a budget, it might be tempting to buy an indoor surveillance camera for your front porch, or an outdoor camera for your living room.
But these home security cameras have distinctions for a reason, so let's break it down. Here are a few basic characteristics of indoor vs. outdoor cameras to help you decide which option might be best for you.
Indoor Cameras
When you want to check on what's important to you inside your home, an indoor camera shines. Designed with just-enough viewing angle and two-way talk, indoor cameras are ideal for midday check-ins with the nanny but subpar for surveying your sidewalk.
Choose an indoor camera if you:
Want an easy way to chat with kids who don't have mobile devices
Have pets you'd like to check in on during the day
Have aging grandparents in another state you'd like to check in with
Need to monitor a young child's night-time sleeping habits
Outdoor Cameras
If you're looking for a way to monitor and record the activity outside your home, outdoor cameras might be the perfect fit. These surveillance cameras often have a hooded design, a wide viewing angle, and weatherproof capability—perfect for your driveway but overkill for your dining room.
Choose an outdoor camera if you:
Want to deter burglars from targeting your home
Want to record suspicious activity near your property
Need a weatherproof option to withstand the elements
Secure Your Cameras the Smart Way.
With data breaches consistently plaguing the tech industry, it might seem like a typical citizen can't do much to protect themselves from a system hack. But as a home security consumer, you've got quite a bit of agency to keep hackers at bay. Follow these simple tips to secure your account and protect your info.
Secure Your Wireless Network With WPA2
Before installing an indoor camera, secure your Wi-Fi network with a security protocol such WPA2, which makes your system more difficult to hack by using a unique encryption key.
Don't Skimp on a High-Quality Password
Sometimes the only thing between your information and a hacker is a few choice letters. Create a high-quality password that you don't use anywhere else, and update it consistently.
Buy a Camera With Encryption
When you've got personal information floating through the airwaves, it's smart to protect it. Opt for a camera with password protection or encryption technology for the utmost safety.
Stay on Top of Firmware Updates
Firmware—or more permanent software—acts as pre-programmed behavior to keep your camera running. Stay on top of updates to arm your camera with the latest available security.
Get a Free Frontpoint Quote.
Ready to give an indoor camera system a try? Frontpoint offers two wireless indoor camera options to match your budget and fit your lifestyle. Fill out our short form to get started today.
Do People Use Their Security System To Check on Their Pets?
If you have a furry best friend, you know that they're just as much a part of the family as anyone else. So why wouldn't you want to keep tabs on them when you're away from home?
As it turns out, 56% of pet owners do.
Some pet owners go as far as buying pet-specific cameras, while others find multiple uses for their home surveillance. Either way, dog dads and cat moms alike are tuning in to see what their four-legged friends are up to (or to catch them in the act of getting into the trash).
0

%

56% of pet owners use their home security systems to check up on their four-legged friends when they're away from home.
Of those that responded, 35.6% have a home security system and 69.4% own a pet
30% of people that don't have a home security system or pet said that if they had both they would use it to keep tabs on their furry friend
60.29% of pet parents between the ages 18–34 check in on their companions, with the majority of respondents being female. Of those surveyed, 61.9% were female and 47.01% were male
Methodology
We surveyed 1,000 Americans aged eighteen and up and asked them if they owned a home security system and if they owned a pet.
Over 1,000 people responded, and more than half of people who own pets use their home security system to check in on their canine and feline friends.