A Complete Guide to Wireless Indoor Security Cameras.
Simple explanations for a smart purchase.
Want to Go Wireless? Here's Why You Should
Must-Have Security Features for an Indoor Wireless Camera
Wire-Free vs. Wired vs. Wireless Indoor Security Cameras
Secure Your Cameras the Smart Way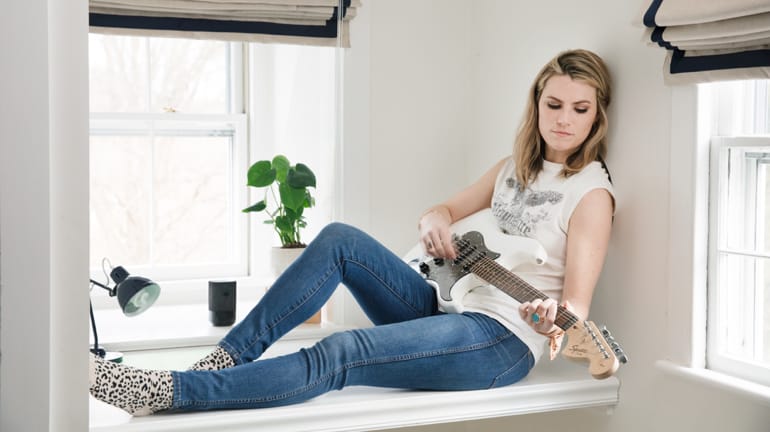 Wireless Indoor Cameras: Surveillance of the Future.
As a 21st century human, you've likely tried to wrestle an awkwardly long device cord into a neatly wound rope—only to abandon ship after it recoils in a tangled mess on the floor. The agony! Thankfully, wireless is the way of the future, and the home security industry is helping pave the way.
Wireless indoor security cameras—such as those by Frontpoint, Arlo, and SimpliSafe—use your cellular network to transmit data, store video clips, and send instant alerts—all without those pesky wires.
As a new generation of indoor cameras sweeps the market, the safety experts at Frontpoint bring you a resource guide to help you navigate the industry and narrow down your options.
Want To Go Wireless? Here's Why You Should.
Whether you're a stay-at-home parent, a young professional, or a member of the Greatest Generation, a wireless outdoor camera combines home security protection with home automation convenience to help you stay connected to your life at home.
A few uses for an indoor camera:
Grab an impromptu chat with Grandma via two-way talk
Monitor the newborn with low-light sensitive recording
Peek in on the pets at lunchtime via your smartphone
Catch intruders in their tracks with motion-activated recording
Must-Have Security Features for an Indoor Wireless Camera.
We get it. Trying to pinpoint the perfect home security camera in an industry with almost endless options can knock the wind out of even the most knowledgeable consumers. Before you start browsing Amazon for the latest options, take a peek at our must-have indoor wireless camera features below to help you make your decision.
Remote Monitoring
Check in with the dog walker while you're waiting for an oil change with remote access. Many indoor Wi-Fi cameras sync with a mobile app, so you can view live video clips straight from your smartphone.
Encrypted Signal
When your personal info travels via Wi-Fi signal, there's an inherent risk for a data breach. Choose a camera that offers password protection or WPA2 encryption to help defend your home from hackers.
Stay safe with Frontpoint's 256-bit AES encryption.
United States banks trust this encryption service to protect top-secret information.
Shop Frontpoint Packages
Night Vision
Don't let the sun dictate your safety. An indoor camera with night vision capability emits invisible infrared light to capture night-time images of your home with a level of brightness that rivals the sunrise.

Frontpoint Premium Indoor Camera
Bluetooth-enabled wireless camera, featuring a sleek, modern design.
1920 x 1080 image resolution
Echo-cancelling microphone
180-degree wide-angle lens
Syncs with Amazon Alexa for voice control
Easy, DIY installation
View Details
Motion-Activated Clips
Instead of sifting through hours of footage (as if you had the time!), choose a motion-sensing camera. These cameras can detect—then record—movement, usually between 90 degrees and 270 degrees.
Storage Space
An indoor camera packs some significant HD recording power, so you'll want storage that can match. Plans range in size, so consider your image resolution and recording frequency before buying.
Mobile Alerts
An indoor camera isn't quite worth it without the ability to send you instant notifications. Look for a wireless camera that syncs with a mobile app, so you'll know the moment activity occurs at home.
Smart Home Integration
Choose an indoor Wi-Fi camera that integrates with an overarching control hub, so you can seamlessly sync with the Internet of Things and all your favorite Z-wave enabled home automation devices.
Voice Control
Perfect for those rushing-out-the-door moments, many indoor cameras—such as the Frontpoint Premium Indoor Camera—sync with Amazon Echo's Alexa or Google Home for voice-activated control.
Wire-Free vs. Wired vs. Wireless Indoor Security Cameras
Wired
The option featuring the utmost security, wired indoor wireless cameras offer a secure, hardwired line that inherently reduces your risk of a system hack.
Also known as CCTV—Closed Circuit Television—cameras, wired cameras offer a more permanent solution and a reliable connection. Cameras that fall into this category tend to be ideal for large properties that require multiple cameras or a heavy amount of bandwidth.
Pros
Hardwired security = less prone to hacks
Reliable connection
Able to handle heavy bandwidth
Cons
Expensive, permanent installation
Wires easy for intruders to cut
More difficult to conceal
Wireless
Perfect for on-the-go families and tech-savvy singles, wireless indoor camera systems use your cellular network to transmit data without wires.
Streamlined and portable, wireless Wi-Fi cameras sync with your smart home devices to improve home automation. Wireless cameras also tend to have a robust line-up of features, from voice control capability to remote monitoring.
Pros
Z-wave compatible
Remote accessibility
Customizable mobile alerts
Cons
More prone to system hacks
Must rely on Wi-Fi signal
Still require a power outlet
Wire-Free
Yep, this one's a bit of a brain teaser: wireless and wire-free are not always synonyms! While wireless cameras transmit video and audio data wirelessly through a cellular network, they still need a power cord to connect to an outlet—therefore they're not completely wire-free.
Wire-free cameras take it one step further by eliminating wires altogether. Since these indoor camera systems use batteries to get their power, you can place a wire-free camera almost anywhere without worrying about cumbersome cables. And when you've got kids at home, wires can become a tripping hazard or not-so-safe teething toy. So for young families, eliminating wires can mean elevating safety.
Pros
Easy, DIY installation
100% wire-free indoor camera
Cloud-based storage
Cons
Must replace the battery consistently
Relies exclusively on a Wi-Fi signal
Often more expensive
Secure Your Cameras the Smart Way.
With data breaches consistently plaguing the tech industry, it might seem like a typical citizen can't do much to protect themselves from a system hack. But as a home security consumer, you've got quite a bit of agency to keep hackers at bay. Follow these simple tips to secure your account and protect your info.
Secure Your Wireless Network With WPA2
WPA2—short for Wi-Fi Protected Access 2—acts as a private access code to keep your connection secure. Look for an IP address with "https" in the title for an extra security boost.
Encrypt Your Camera
Choose a camera with password-protected quality encryption, like 256-bit AES encryption used by US banks. If it's safe enough for your finances, it's safe enough for your footage.
Craft Quality Passwords and Usernames
Although it might seem second nature, don't overlook this important step. Create a strong and unique password that you don't use for any other service, and change it up frequently.
Update Firmware As Soon As Possible
Don't procrastinate on installing firmware updates. Camera companies often include security upgrades among their bug fixes, so skipping an update can put you at risk.
Ready to Boost Your Home's Safety?
Get started today with a free indoor camera quote from Frontpoint. One of the highest rated alarm companies in the US, Frontpoint is a leader in innovative home security solutions. Just ask our customers, who consistently give Frontpoint five-star reviews on Trustpilot. Fill out our short form to discover your personalized options.