The Complete Guide to Outdoor Security Cameras.
Your one-stop resource for everything you need to know about outdoor surveillance cameras.
Why Get an Outdoor Security Camera?
Three Types of Outdoor Camera Tech
Self-Monitored vs. Professionally Monitored Systems
The Anatomy of a Quality Outdoor Camera
Burglary by Location in 2017
Best Places to Mount an Outdoor Camera
If You Can Imagine It, You Can Hide It
How to Hide Security Camera Wires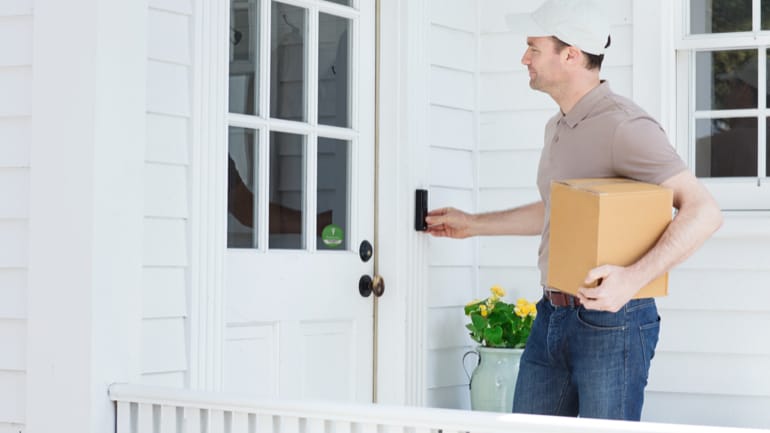 Outdoor Cameras: Your Live-In Security Guard.
When you're in the market for an outdoor surveillance camera system, there can be a lot to consider.
Should you get wired outdoor cameras for reliability or wireless ones for accessibility? What level of image resolution is necessary? Do you need night vision? What does CCTV even stand for?
We got you. The safety experts at Frontpoint bring you this comprehensive guide to outdoor security camera systems to help you navigate the industry, answer key questions, and make the right decision for your home.
Read on to discover the pros, cons, features, and benefits of the latest options—and some tips to get you started.
Why Get an Outdoor Security Camera?
No matter your profession—from full-time parent to part-time accountant—there are likely many hours during the day (and night!) you don't have the time to pay vigilant attention to every door, window, garage, or entryway to your home.
And that's as it should be. After all, you've got plenty going on without that added hassle. To help protect your home without hiring a full-time security guard, you can outsource the job to outdoor video surveillance cameras.
An outdoor camera offers a simple and tech-savvy solution to ensure there's always a pair of eyes on your home's entrances—day or night. The latest outdoor cameras come equipped with a wide viewing angle, infrared night vision, motion-activated recording, smartphone alerts, and even 24/7 monitoring, so you can spend more time enjoying what matters most to you.
Three Types of Outdoor Camera Tech.
As you're sifting through options, be sure to note the type of technology each camera employs. Depending on your needs, you might prefer a CCTV camera with a physical hard drive, an internet-based system like an IP Camera, or a cloud-based option that you can access remotely.
Take a peek at our breakdown below to compare CCTV, IP, and cloud-based outdoor surveillance camera systems.
CCTV
Cameras
CCTV—Closed-Circuit Television—cameras use hardwired analog technology to transmit data, which gets stored on a physical hard drive.
Most traditional system
Hardwired, secure network
Data stored on a physical hard drive
Ideal for large homes
IP
Cameras
IP—Internet Protocol—cameras use a Wi-Fi signal to receive and transmit data, which can be stored and accessed using a unique IP address.
Transmits data via Wi-Fi signal on a unique IP address
Customizable network
Data viewable online
Ideal for customizability
Cloud-Based
Cameras
Cloud-based cameras use a centralized cloud server to transmit and securely store data, so you can access content remotely via smartphone.
Centralized cloud network
Remotely view live clips
Less vulnerable to hacks
Ideal for remote accessibility
Self-Monitored vs. Professionally Monitored Systems.
When choosing the monitoring style you want for your outdoor camera, you've got a couple of options. You can choose the DIY route by selecting a self-monitored security system or opt for a professionally monitored system. See our breakdown below to find the best option for your place.
Self-Monitored
If you're a renter, you've got a smartphone, and you're always on top of your notifications, a self-monitored system could be the fit for you. Self-monitored outdoor security cameras offer a professionally hands-off approach, so you'd be responsible for addressing every notification, as well as calling emergency personnel when needed.
Ideal for renters, apartment-dwellers, and bargain hunters, self-monitored exterior surveillance cameras are budget-friendly and portable since many don't require hardwiring.
But having such a DIY solution can pose a few drawbacks, too. For instance, if an emergency arises when you are unavailable, you'll have no professional backing when it counts. You'll have to strictly monitor alerts yourself, or employ a family member or friend to help you.
Pros
No monthly monitoring fee
Portable and easy to install
Less risk for false alarms
Cons
No professional support in an emergency
Requires vigilant attention to alerts
Only as reliable as your cell phone
Professionally Monitored
Professionally monitored outdoor home security camera systems allow you to take your mind off the details in ways that self-monitored systems simply can't. Even if you set up every imaginable mobile alert on your smartphone, you could be in a meeting, on vacation—or simply fast asleep—the moment a stranger triggers the sensor.
Professionally monitored systems come backed by 24/7 support from trained agents, consistent coverage with dedicated monitoring centers, and fast response times, so an agent can alert emergency personnel even when you can't.
That said, there are some downsides, too. Many cities have strict false alarm laws that could leave you with a hefty fine if an unwarranted alarm triggers. You'll also likely have to pay a monthly monitoring fee and have a keen memory to reset the alarm every time you disable it.
Pros
Trained pros at the ready—24/7
Reliable coverage with dedicated monitoring centers
Instant access to emergency personnel
Cons
Monthly monitoring fee
Risk of false alarm penalties
May have to set the alarm for it to be effective
The Anatomy of a Quality Outdoor Camera.
When it comes to making the final call on an outdoor motion detector camera, it might just come down to the features. Be on the lookout for the following features to make sure you're choosing outside video cameras worth your investment.

Frontpoint Outdoor Camera
Wireless motion-activated outdoor camera for home.
Weather-proof for temperatures 4° to 122°
Motion-activated recording capability
Image resolution up to 1280 x 800
View live and recorded video clips via the Frontpoint App
View Details
Image Resolution
Get a clear eye on the situation with high-def resolutions up to 1280 x 800 pixels. In fact, images with a high level of picture clarity will help you use your clips as evidence in a police investigation if needed.
Field of View
The wider the angle that your outside security cameras can view, the higher the probability it will be able to capture footage near your home—and discern whether that footage is worth more investigation.
Motion Detection
Choose an outdoor camera that features motion-activated video clips. Some cameras even offer customizable smartphone notifications, so you'll know the moment someone triggers the sensor.
Night Vision
Don't let the sun go down on home protection. Choose outside cameras with infrared night vision, so that even if the camera records something at midnight, you'll be able to see the footage clearly.
Recording
The industry's leading exterior home security cameras offer motion-activated video recordings—some even with smartphone alerts. That means you won't have to watch hours of footage to find the right clip.
Weather Proofing
When a camera lives outside, it should be able to withstand the elements. Look for an outdoor camera that can handle temperatures between 4° to 122°, like the Frontpoint Outdoor Camera.
Color or Black-and-White
This one's up to you. While it's not essential to have outside surveillance cameras record in color, they may give your video clips an added edge in discerning faces compared to black-and-white images.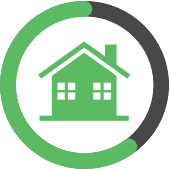 Burglary by Location in 2017.
The majority of burglaries occur in residential dwellings. So while an office workplace, local restaurant, or supermarket might pack more valuables than your home does, thieves still seem to target residences consistently. Investing in a motion-activated outdoor security camera is one of the best ways to deter burglars—or help police catch them.
67% of all reported burglaries in 2017 were from residential dwellings.
Source: FBI Uniform Crime Reporting
Best Places to Mount an Outdoor Camera.
Doors
Primary entrances deserve primary attention. Mount outdoor home security cameras above your doors for a perfect first line of defense.
Driveway
Affix a camera above your garage door, so you can record anyone approaching your home—or gravitating to your garage.
Obscure Windows
Sneak an outdoor security camera under the sill of a hard-to-reach window to capture a far-reaching viewing angle.
If You Can Imagine It, You Can Hide It.
Sometimes when deciding where to place your outdoor surveillance camera, stealth is key. The more discreetly you affix your camera, the less likely a potential burglar will think to look there—or try to tamper with it. Whether you choose to hide one near your birdfeeder, inside a door wreath, or behind your garden gnome, use your imagination for a slightly sneakier solution to safety.
Birdhouse or Feeder
Let your front-porch bird feeders do double duty. Hide outdoor security cameras in or around them for some truly birds-eye surveillance.
Fake Rock or Fixture
Have a favorite statue or water feature by your front door? Use your artwork—or your landscaping—for your safety by hiding your camera close by.
Bush or Tree
That flower garden isn't just for looks. For a security boost, tuck an outdoor camera among your spruce trees or rose bushes. Bonus points for a color match.
How to Hide Security Camera Wires.
It's one thing to hide your cameras effectively, and quite another to hide the wires. Long and winding, often with a mind of their own, outdoor video camera wires might need some extra TLC to disguise them.
Exposed wires also pose added safety risks—such as a burglar snipping them as they walk by or a neighborhood cat treating them like a new toy. Thus, it's smart to remove them from view. So how can you hide your outside security camera wires inconspicuously? We've got a few solutions.
Leverage Your Landscaping. When it comes to hiding wires, foliage is your friend. Use some surrounding plant life to your benefit to act as camera-wire camouflage. Run them through a nearby tree branch, tuck them behind leaves, or let some tall flowers blossom around them.
Paint Them. The art of camouflage is a fantastic resource for obscuring camera wires. Simply painting your wires can help them blend in and stay hidden. Paint them white to match the gutter, green to mimic vines, or use some leftover window paint to mask them behind a shutter.
Feed Wires Through Walls. To make the wires disappear entirely, your best bet is to drill into a nearby wall or ceiling and filter the wires through. This option might take some expertise and finesse, so we recommend reaching out to your electrician to avoid an accidental power outage.
Go Wireless. Finally, you can avoid the issue altogether by opting for a wireless outdoor security camera system. Without wires, you can fasten an exterior security camera almost anywhere you wish without the added complication of hiding the cables.
An Outdoor Camera You Can Trust.
Want to add outdoor surveillance to your place? Frontpoint is ready for you. A leading home security company in the US, Frontpoint has high Trustpilot ratings and offers a wireless outdoor camera system featuring motion-activated recording capability and remote accessibility. Fill out our short form for a free, personalized quote today.