A Comprehensive Guide to Buying a Smart Lock.
A next-gen home security measure, smart locks boost your home's intelligence and simplify security. The safety experts at Frontpoint dug into the industry to help you make a smart choice for a smart lock.
How Does a Smart Lock Work?
Is a Smart Lock Right for You?
What to Look for in a Smart Lock
Let's Compare Z-Wave, Zigbee, Bluetooth, and Wi-Fi
Fast Facts About Home Burglaries
How to Install a Smart Lock
Today's Top Smart Locks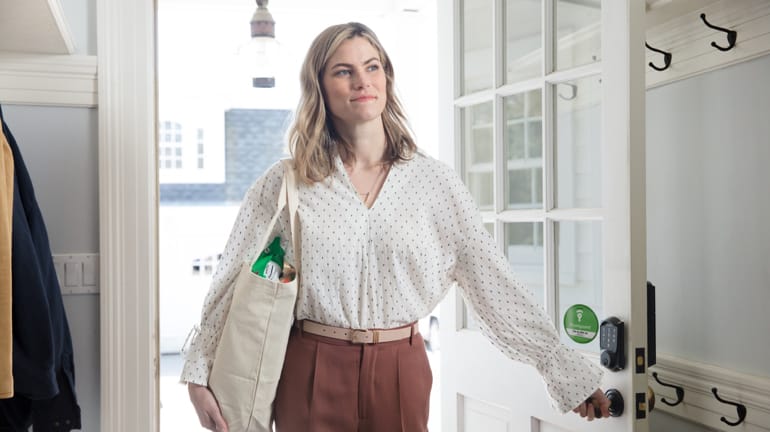 Unlock the Benefits of Smart Locks for Homes.
Tired of losing your keys? So. Are. We. Spare yourself the last-minute overturned couch cushions—and the facepalms—with a keyless door lock.
A smart lock is an electronic door lock that syncs with your smartphone to allow you to control your door locks from afar—or via a touchpad on your front porch.
But which smart door lock is right for your family? Take a peek at our resource guide to learn more about the benefits and features of the latest smart home locks.
How Does a Smart Lock Work?
Wireless Smartphone Control
A smart lock works by using a wireless protocol to sync with your smartphone and help you control your front door locks remotely. And since many Wi-Fi enabled door locks feature compatibility with a specialized or third-party app, you'll get instant alerts every time someone locks or unlocks your door.
Battery-Powered Tech
Smart locks use batteries to keep them running, making them completely wireless. That means you won't have to think of creative ways to hide pesky wires behind a door frame or inside an outdoor plant. We recommend you choose high-quality (or rechargeable!) batteries to get the longest life out of your smart lock and save money for that next vacation.
Smart Hub Integration
Many smart front door locks feature compatibility with an overarching smart hub—or a sort of control panel to sync your smart devices. These smart hubs tend to rely on a primary wireless protocol, such as Wi-Fi or Z-wave, to help you connect every device for seamless automation.
Is a Smart Lock Right for You?
A smart lock is right for just about anyone who wants to combine simple security with seamless home automation. Is that you? We guessed it might be. If you're still on the fence, here are a few examples of people who might benefit from a smart lock.
On-The-Go Families
When you're juggling multiple schedules (School! Swim practice! Dinner dates!), a Wi-Fi keyless door lock lets you manage your home's security without being home. Choose a smart lock that features a keypad so you can give the kids—and trusted neighbors—customized access codes.
Working Parents
Won't be home in time to let the kids in after school? Can't remember if you locked the door on your way to your first meeting? What perfect uses for your new smart lock. A smart lock lets you lock or unlock your doors from your smartphone, so you can still care for your kids from afar.
Smart Home Technophiles
You've probably got a connected home, so now you can have a connected entrance. Smart locks contain the latest wireless protocol technology, which means they can sync with other smart home devices, such as Amazon Alexa, for voice control over your deadbolts.
Grandparents
Give the grandkids their own special access codes or open the front door for the housekeeper. With a smart door lock, you won't have to make duplicate keys or risk losing your own. You can even create specialized schedules, so your deadbolt acts as an automatic lock.
Dog Owners
Let the dog-walker in without making an extra key. With a Wi-Fi door lock, you can still keep your canine—and your belongings—safe at home while giving your dog-walker or neighbor exclusive access to your home at any time of the day.
Homeowners
Intruders will find it pretty difficult to pick a lock that's not there. A smartphone door lock gives you complete control over your front door deadbolt. These clearly keyless locks can even deter a would-be intruder from trying to enter in the first place.
What to Look for in a Smart Lock.
Communication Protocol
When choosing a smart lock, be sure it supports the wireless protocol you need: Wi-Fi, Z-wave, Zigbee, or Bluetooth.
Each protocol has its pros and cons, so consider carefully before making a purchase. This step is especially important if you have existing home automation devices—you want to make sure they can all talk with each other with ease.
Mobile Alerts
You already carry your smartphone with you, so why not use it to keep your deadbolts "close by," too?
Look for a smart lock that features customizable smart lock alerts, so you can know the moment your front door locks or unlocks—and control it from almost anywhere.
A Good Fit
Yep, we mean the physical fit! Since a remote control door lock houses so much tech, it tends to have a sizable profile compared to its more traditional cousins.
Be sure to check the technical specifications of an automatic door lock system before purchasing to ensure that it can fit on even the most beautifully designed door.
Keypad vs. Remote Access
Most smart locks on the market feature a choice between a physical keypad or complete remote control. Some even have biometric capability so you can enter your home with a simple touch of your fingerprint.
There's no "best" option here, but taking an inventory of your family's needs before you make a purchase can help you make a decision that's best for you.
Smart Hub Compatibility
You'll want your smart lock and smart hub to be friends.
That means if you've already got a smart hub, look out for home automation door locks with matching wireless protocols for seamless control over all your smart home devices.
Installation Requirements
Will you need professional installation? Maybe just a good set of tools? We recommend checking the installation requirements of your new smart lock before you buy.
Most smart locks can be installed with just a few tools in under an hour. Plus, companies often offer detailed instructions, so you won't be left scouring Google for how-to articles.
Let's Compare Z-Wave, Zigbee, Bluetooth, and Wi-Fi.
New to the connected home scene? Here's our breakdown of the four main wireless protocols used by smart home devices: Wi-Fi, Z-wave, Zigbee, and Bluetooth.
Think of a wireless protocol as your smart home devices' native tongue. If all of them can speak the same language, they'll be able to work in tandem and communicate with ease.
For the most seamless transition, we recommend selecting a smart lock that features a wireless protocol (or three!) shared by your overarching smart hub or the majority of your home automation devices.
Wi-Fi
It's the most ubiquitous wireless protocol around. Wi-Fi has taken our world by storm the past two decades as a user-friendly solution for a wireless internet connection.
This wireless protocol option is great for first-time smart lock users, since you won't need a smart hub to connect. However, Wi-Fi isn't designed to handle high-bandwidth home automation devices, so a high volume of connected devices can interfere with your internet signal.
Pros
Doesn't require a smart hub
Doesn't need additional set up if you have an internet connection
Works with a variety of smart locks for easy compatibility
Cons
Can only support a limited number of devices
Uses a high amount of energy
Can't sync with all smart home automation devices
Z-Wave
Uniquely designed for home automation, Z-wave sneaks around your Wi-Fi signal at a lower frequency, so you won't have to sacrifice bandwidth for security. And since Z-wave uses less energy than Wi-Fi, you'll have lower utility bills and the capacity to juggle hundreds of smart home devices at once.
Pros
Won't interfere with your internet connection
Comes backed by encryption software
Can support up to 272 smart home automation devices at once
Cons
Doesn't have automatic encryption—the user must update settings first
Requires a smart hub
Not compatible with all home automation devices
Zigbee
This wireless protocol is a technophile's dream, since Zigbee can sync up to 65,000 nodes at once. However, this level of connectability might not be needed for an average smart homeowner (even if you love your tech!).
So if you only need to connect a dozen—or even 100—devices, you might prefer the more security-focused Z-Wave or Wi-Fi for their encryption capabilities.
Pros
Can't interrupt Wi-Fi signal, since it runs on its own frequency
Able to simultaneously sync the largest number of home devices
Compatible with a large network of smart home devices
Cons
Needs a smart hub to function
Less secure than Z-wave or Wi-Fi
Offers a more limited range than Z-wave (10 meters vs. 35 meters)
The most expensive wireless protocol option
Bluetooth
Perfect for short-range distances, Bluetooth can connect your smart lock to your smartphone in seconds.
Since most smartphones have this tech hardwired in, you won't need a smart hub to sync your lock to your phone or to sync with compatible home automation devices. However, Bluetooth doesn't do as well with multiple devices and it doesn't excel at longer-range distances.
Pros
Inherently compatible with your smartphone
Doesn't require a smart hub
Consumes little energy
Cons
Can have unreliable service
Only works within a limited range
Can only support a minimal amount of devices concurrently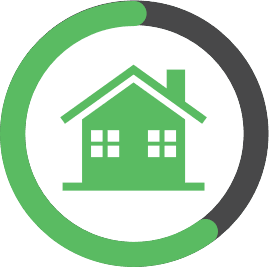 63% of Americans say they know someone who doesn't regularly lock their front door.
Source: Apartment Therapy
How To Install a Smart Lock.
A DIY smart lock installation might seem a tad unnerving. After all, your front door is the primary gateway to your home—you want to make sure it's safe. A DIY smart lock installation might be simpler than you think.
Follow our step-by-step to-do list to install your new high-security door locks yourself.
Disassemble Old Deadbolt
Remove back plate
Unscrew deadbolts
Discard the old cylinder
Dispose of the old deadbolt
Install New Deadbolt
Align the door frame with the new deadbolt
Extend the new deadbolt
Insert new deadbolt
Add the New Keypad
Choose a placement where there are no obstructions
Position the keypad above your door lock for easy access
Fasten the keypad with the provided hardware
Attach Lock to Door
Line up the internal assembly
Mount the assembly
Install cover over the interior lock assembly
Test for Smooth Operation
Ensure you don't need to adjust the door for the lock to work
Try to lock and unlock the door from your smartphone
Create a unique code to test the keypad functionality
Today's Leading Smart Locks.
Frontpoint Yale Smart Lock
This Frontpoint Z-wave door lock combines smartphone control and keypad entry for simple, high-tech security.
August Amazon Pro + Connect
This digital door lock shines when it comes to third-party compatibility. The August Amazon Pro can work with just about any wireless protocol you throw its way.
Nest x Yale Smart Lock
This Wi-Fi smart lock combines security with Nest's smart tech. This model is tamper-proof for added security.
Ready to Install a Smarter Lock?
Now that you're a smart lock expert, let's get you started with one. The Frontpoint Yale Smart Lock combines keypad security with smartphone control to create a secure and convenient keyless entry door lock.
This Wi-Fi front door lock offers Z-wave compatibility through the Frontpoint Smart Hub, so all your home automation devices can communicate with ease. Fill out our short form for a free, personalized quote today.