FrontPoint Picks: Five Fun Ways to Celebrate Earth Day
Grab your shovels – it's time to plant some trees! On April 22, people across the world will be celebrating Earth Day in various ways. Some people will simply hug a tree, while others will unleash their inner "green" beast (not the Hulk) and spend the entire day cleaning up the planet.
However, Earth Day is more than just planting trees, picking up trash and recycling. It's a day where many of us can take a break from our daily routine – like driving, which is often detrimental to the environment. – and think about the Earth. It's a day where we can find fun and enjoyment in unexpected ways!
Get your Earth Day off to a great start with these five fun ways to celebrate!
[caption id="" align="alignnone" width="670"]
Source: wikiHow[/caption]
Wait what? It might sound crazy, but considering leaving your car in the garage for a day. Vehicles are simply not environmentally-friendly, no matter the mileage. Instead, try public transportation, a bicycle or better yet, take a walk! You might find it to be surprisingly liberating.
[caption id="" align="alignnone" width="600"]
Source: Fine Cooking[/caption]
Changing our diets, from what we consume to where we get our ingredients from has a dramatic impact on our environment. Work your magic in the kitchen this Earth Day with these scrumptious, planet-saving recipes from Fine Cooking.
[caption id="" align="alignnone" width="606"]
Source: TinkerLab[/caption]
Earth Day is the perfect day to share with your kids the importance of taking care of the environment. Now, we're not suggesting you turn them into activists (that's entirely up to you), but make sure to have some fun with it! Participate in outdoor activities with your kids or take them to the zoo. My personal recommendation is to watch The Lorax or Captain Planet – we can all be planeteers too!
Ever wonder about your impact on the planet? Not exactly a common thought, but if you did, the Ecological Footprint Calculator can give you an estimation based on your lifestyle. Brace yourselves, the results can be quite alarming. I thought I lived a fairly green lifestyle, but it turns out if everyone lived like me, we'd need 4.7 Planet Earths to provide enough resources. Yikes.
[caption id="" align="alignnone" width="450"]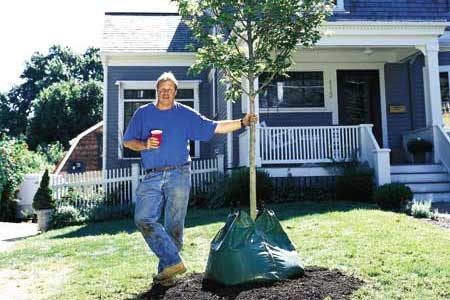 Source: This Old House[/caption]
Nothing says Earth Day like planting a tree. It can be easy to do with this step-by-step guide from This Old House. If you find that you're still in the mood for Mother Nature after finishing, do more outdoor activities! Complete your Earth Day by going on a hike, walking a trail or having a picnic.
Bonus: Celebrating Earth Day at Work – Earth Day falls on a Tuesday and unfortunately for many people, that's a work day. If you're one of those people, don't worry! There are plenty of ways you can still show your greener side while in the office. Check out these ideas from Heritage Environmental's blog.